RF Microneedling in New York City
Heights Aesthetic Laser Center is a leading provider of advanced skincare treatments and services, and one of our most popular offerings is the RF microneedling procedure. This innovative treatment is designed to reduce the appearance of wrinkles, fine lines, and other common signs of aging by using radiofrequency (RF) energy and micro-needling techniques to stimulate collagen production and skin rejuvenation. Lets explore how Heights Aesthetic Laser Center performs genius RF microneedling procedure.
Step 1: Consultation
The first step in the RF microneedling process at Heights Aesthetic Laser Center is a consultation with one of our experienced skincare specialists. During this consultation, the specialist will assess your skin and discuss your aesthetic goals to determine if RF microneedling is the best treatment option for you. They will also explain the procedure in detail, answer any questions you may have, and provide you with pre- and post-treatment instructions.
Step 2: Preparation
Once you have decided to undergo RF microneedling, the next step is to prepare your skin for the procedure. The specialist will cleanse your skin thoroughly and apply a topical numbing cream to ensure your comfort during the treatment. They will also use a marker to outline the treatment areas on your skin, ensuring that the microneedling device is applied precisely.
Step 3: RF Microneedling
The RF microneedling procedure at Heights Aesthetic Laser Center is performed using the Morpheus8 device, which is a cutting-edge microneedling tool that combines RF energy with micro-needling techniques. The Morpheus8 device is designed to deliver targeted RF energy deep into the skin's layers, which stimulates collagen production and skin rejuvenation.
The device's microneedles penetrate the skin, creating tiny punctures that trigger the skin's natural healing process. The RF energy is delivered through these microneedles, targeting the deep layers of the skin to stimulate collagen production and elastin fibers. This results in improved skin texture, reduced fine lines, and wrinkles, and a more youthful appearance.
Step 4: Post-treatment Care
After the RF microneedling procedure, the specialist will apply a soothing serum to your skin to help reduce any redness or inflammation. They will also provide you with detailed instructions on how to care for your skin post-treatment, including avoiding direct sunlight and using sunscreen to protect your skin from UV damage. It is important to follow these instructions carefully to ensure the best possible results.
Step 5: Follow-up
The specialists at Heights Aesthetic Laser Center will schedule a follow-up appointment with you to check on your progress and determine if any additional treatments are needed. Depending on your skin's condition, you may need multiple sessions to achieve your desired results. The specialists will work with you to create a personalized treatment plan that addresses your unique needs and aesthetic goals.
In conclusion, the RF microneedling procedure at Heights Aesthetic Laser Center is a genius solution to improve skin texture, reduce fine lines and wrinkles, and promote overall skin rejuvenation. With their experienced skincare specialists and state-of-the-art high-end devices, you can trust that you will receive the highest quality treatment and achieve the results you desire. Book a consultation today to learn more about how RF microneedling can benefit your skin!
RF Microneedling Before and After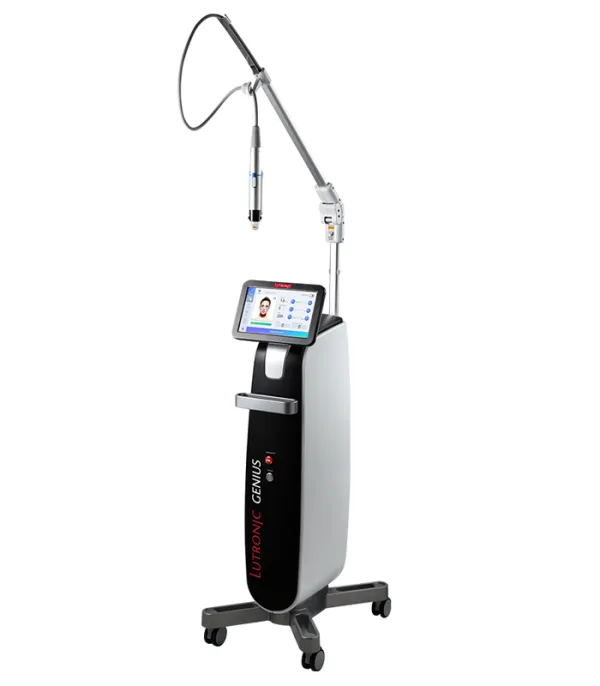 RF Microneedling Equipment
Lutronic Genius is a radiofrequency(RF) microneedling device. It works by accelerating collagen and elastin production to provide rapid results that improve over time. Genius RF Microneedling is an advanced collagen stimulation treatment that combines the benefits of microneedling with radiofrequency energy to eradicate wrinkles and enhance skin texture and firmness.